COVID-19
WE ARE OPEN!
Hours:   8am-9pm Monday – Saturday | 9am-9pm Sunday 
Fuel will be available however due to current circumstances, for the time being, our staff will be unable to help you dock your boat. Please inform them of the amount of fuel you would like then proceed to the end of the dock for payment. Wireless credit/debit machine will be available to facilitate contactless payment on the dock.
Our Ice Cream Shoppe is OPEN!  A limit of 10 customers within the building will be enforced at all times. We are that all customers practice Social Distancing and remain at least 2 metres apart. The following items will be available in store OR for dockside; Propane, 18L Water Jugs, Ice & O'Brien Water Toys
Municipal Garbage Bins have not arrived yet. For the time being, please dispose of your waste at the local waste management facility.
Walkers Point Marina will continue to monitor the COVID-19 situation and will follow guidance from public health officials and government agencies.
It is CRITICAL that if you have ANY symptom of COVID-19 (fever, cough or difficulty breathing) or mild symptoms, you should stay home to avoid spreading the illness to others.
Additionally, if you can answer "yes" to any of the following, please follow the government guidelines and self-quarantine:
1. Traveled outside of Canada in the last 14 days or had contact with someone who has traveled outside of Canada in the last 14 days,
2. Experiencing a fever, cough, shortness of breath or other flu-like symptoms, been exposed to someone with the COVID -19 virus within the last 14 days.
Walkers Point Marina will continue to monitor the COVID-19 situation and will follow guidance from public health officials and government agencies so that we can continue to support our customers and communities to the best of our ability.
_______________________________________
April 2nd, 2020 – COVID-19  UPDATE
Dear Valued Customers,
We are closely monitoring the quickly developing effects of the COVID-19 and have decided on implementing the following measures to protect our staff, customers and community.
Spring Boat Launching will proceed as usual in boathouses and at the marina. Please note that we require 2 weeks notice to have your boat ready.
Regarding boat house launches, we will be contacting you with a date to ensure our staff does not be come into contact with anyone on site. For your protection and the protection of our staff, we will be taking all necessary precautions. We will be wearing our personal protective gear when handling your boats. We also encourage you to avoid contact with your boat for a 72 hours safety period.
Until further notice the marina store will remain closed to public with the following exceptions:
18L Water Jugs and Propane will be available for pickup outside our door. Payments can be applied to customer accounts or on a credit card over the phone
Fuel Dock will be available once the ice is out – we ask all customers to remain at the suggested 6ft distance from any staff. Payments can also be applied to customer accounts or on a credit card.
March 26th, 2020 – COVID-19 UPDATE
Dear Valued Customers,
To help prevent the spread of COVID-19 and in efforts to keep our team safe, healthy and socially responsible Walkers Point Marina will be practicing social distancing. We are temporarily not allowing any non-staff members to enter the premise in hopes to protect our customers, our staff and the public.
We are still fully available via phone and emails and are committed to providing the best customer service we can in these unprecedented times.
Our Service Department is available should you require to reach them please contact:
Krystal Lee
Service Manager
705-687-7793 ext 224
Our Sales Department is available should you have questions please contact:
Bruce Reid
705-646-7570
John Dunn
705-641-8335
We thank you for your understanding as we move through these turbulent times and hope you and your loved ones are safe and healthy.
Sincerely,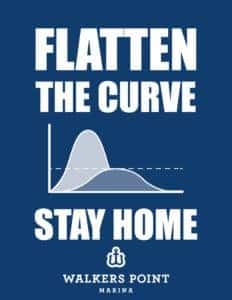 _______________________________________________________
Your Friends At Walkers Point Marina
To Our Valued Clients,
At Walkers Point Marina the safety and well-being of our clients and associates always comes first. We are actively monitoring COVID-19 and are taking the necessary precautionary measure to keep our dealerships sanitary.
In addition to our regular cleaning schedule, we have increased the sensitization of each of our locations throughout the day, concentrating on surfaces including but not limited to customer lounges, desktops, door handles, washrooms and payment terminals. We have also provided extra soap, sanitary wipes and hand sanitizer in high volume areas and have eliminated the distribution of baked goods.
Other precautionary measure we have mandated in our dealership include:
– Our associates must remain at home if they experience any symptoms of COVID-19
– Our Human Resources department continues to review the World Health Organization and reassessed all dealer crisis management protocols
If you have any questions, please call one of our associates at 705-687-7793.
Sincerely,
Walkers Point Marina